New server ADONIS is Online !!!
If you have any issues, reports send us message on FB:
https://www.facebook.com/Project-KO-MYK ... 785083428/
This is just a short movie from the first 2 days of the server which was immensive fun that I made 2 weeks ago but didn't feel it was good enough for sharing but decided to do it anyway.
Although I don't know why youtube keeps cutting quality by half when I upload so I leave it like it is because I've tried using different extensions and the result is the same, enjoy nonetheless.
Also it was first time I was playing sin so don't go hard on me
https://www.youtube.com/watch?v=PtVWxUIk95g
---
Admin

Posts: 106
Joined: Tue Dec 19, 2017 12:11 pm
Location: Poland
Contact:
Thanks for your share !!!
Skype: adam5323
Instagram: @adamsiankowski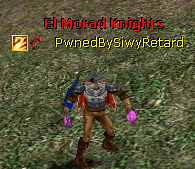 ---
---
Users browsing this forum: No registered users and 9 guests