New server ADONIS is Online !!!
If you have any issues, reports send us message on FB:
https://www.facebook.com/Project-KO-MYK ... 785083428/
Admin

Posts: 106
Joined: Tue Dec 19, 2017 12:11 pm
Location: Poland
Contact:
All Server Update Informations #20-28 (Optimus)

1. Donation Necklace stats has been boosted.
2. Flame Rocks has been removed from main zone and spawn now in bowl to make Abyss Fire unique.
3. Ultima spot is now at Ego to get nice PK at Bi-frost zone.
4. Selfname Packing require Token now. You can buy it in PUS for 500kc.
5. Delos issue has been fixed. Now after relog your character spawn in moradon.
6. Seal System has been implemented. Premium users can now Seal & Unseal their items via panel.
7. Ring of Fire, Ice, Poison, Light has been boosted.
- by 150 HP & 150 MP Bonus at +0
- by 250 HP & 250 MP Bonus at +1
8. Beginner Clan join function has been implemeneted. You can join beginner clan via panel.
9. All 3 slots are unlocked free on every new account.
10. Gem, Fragment, Chest Exchange System has been fully remade.
- Empty drop has been removed
- All shitty items has been deleted from drop (Bus, Bes, Middle Class weapons etc)
- All High Class Weapons & Armors drop at +3
- Rates of uniques drop has been decreased,
11. Few things in Drop List has been changed.
12. Some of event rewards has been changed.
13. Donation Necklace is now upgradable to +1 with 30% rate. You can check stats CLICK HERE
14. [Beginner] 2nd Necklace high chance drop now from Snowman in front of Moradon
15. Rezz Skills range has been increased
16. Mage aoe skills range has been fixed
17. Priest party heal skills range has been fixed
18. Rezz skills casting failed has been fixed
19. Mage 70, 60, 45, 33 skills has been balanced
20. Manes of thunder skill casting fail has been fixed
21. Redistribution Item has been added to Vote Rewards CLICK HERE
22. DC ISSUE HAS BEEN FIXED
23. Facebook page has been changed
24. Hosting upgrade. Better location & equipment.
25. Last Man Standing map fully remade.
26. Master Quest Boss two additional spawns. Moradon & Colony Zone.
27. Master Quest Boss drop Skill Quest Powder also now.
28. Buff NPC has been added to Colony Zone.
29. Some event times has been changed more to US time-zone.
30. Warder & Keeper health has been increased. Gold Bar drop on them has been fixed.
31. Trina drop only from Recons now with 10% rate.
32. Iron bar drop rate increased.
33. Users view on panel with symbols in nicknames has been fixed.
34. Chaos Stone health has been increased by 30%.
35. Overall Server & Security update.
36. Bi-frost Monument health has been increased by 50%
37. Stream Area has been added on KO Panel. You can check out our streamers!
38. Felakor stats has been increased.
39. Death Match map has been changed
40. Overall Security Update
41. Ice & Light shot effect has been fixed. They slow & stun now.
Ice & Light shot cooldown has been increased due to good effect on them.
42. Talia Skin is now Storable/Tradable etc.
43. Repair item visual bug after merchant has been fixed
44. Visual Slide issue has been minimalized (New game movement engine fix)
45. Update for TBL protection. Now there is no way to use any kind of TBL's. Once someone try to change values he'll be kicked from the game ( Feel free to try )
46. Kill Gift Event has been added
47. Range bug on Ice 33,45,60,70 aoe skills where you got slowed without damage has been fixed.
48. All mage staff skills 42 & 72 has been reworked.
- Damage has been balanced
- Attack Power on staffs increase damage on the skills now for example. ( You hit a lot more with Elysium than Wood Staff )
49. Gold Bar Gamble system has been added. You can check exchange probabilities here click
50. After relog in Hell Abyss you're now spawned at Moradon.
51. Kill Gift event count saving after relog has been fixed. You can finish it anytime you wish.
52. King Elecetion has been active. It will take place 7th & 21th day every month.
53. Accessory Upgrade to +2 issue has been fixed
54. Auto Loot Scroll has been added to game. You can get it from Power Up Store.
55. Feather of Harpy Queen drop rate has been increased.
56. Santa Event has been added. It will take place randomly from time to time.
57. CSW has been replaced with Boss Land on Sunday.
58. Felankor will now spawn in Boss Land after few minutes once it starts.
59. Eslant Guard & Personal Quest has been added to Chaos Stone in Colony Zone.
Skype: adam5323
Instagram: @adamsiankowski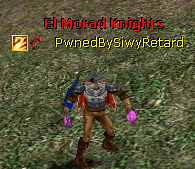 ---
---
Users browsing this forum: No registered users and 2 guests