New server ADONIS is Online !!!
If you have any issues, reports send us message on FB:
https://www.facebook.com/Project-KO-MYK ... 785083428/
Admin

Posts: 106
Joined: Tue Dec 19, 2017 12:11 pm
Location: Poland
Contact:
Hello! We've prepared cool event for everyone, anytime

Create a PK Movie of Project-KO

Event is active without time limit
You can join whenever you wish

You can participate only one time to this event


Rules & Participation:
1. Type our server name in title
2. Upload to youtube
3. Share our website in video or comment.
4. Share it with us

Rating Criteria:
1. Edit skills & Video Quality
2. PK Actions & Video Structure
3. All other addons such as Music etc.

Based on this criteria we will reward you between 100 to 5000 Knight Cash
Good Luck & Have fun!
Skype: adam5323
Instagram: @adamsiankowski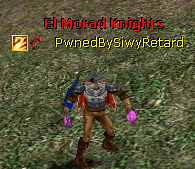 ---
---
Users browsing this forum: No registered users and 2 guests